If you are looking for a crepe franchise, or any foodservice franchise, this is the place. Our business is booming, with franchisees in Japan, Tawan, The Philippines, Australia, and the USA.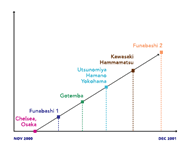 With 101 locations (and many more on the way) Crazy Crepes is at the forefront of the crepe business with their scientifically crafted crepes. While the majority of their outlets are in Japan, Crazy Crepes has opened outlets or is constructing outlets in high profile venues in the US, Taiwan, the Philippines, and China, and is working in the US to expand to hundreds of locations.

Everyone loves this new twist on the popular ice cream sundae! Have a look around our site, and let us know what you think!

For more information please see our history, profile or contact information.